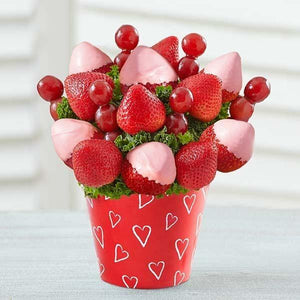 Hearts Delight
Regular price $49.99 Sale
When it comes to surprising somebody you love "berry" much, we've come up with the sweetest way to do it! Our best bunch of plump, ripe strawberries--both plain and dipped--are mixed with juicy grapes and arranged inside a charming heart-shaped container for the perfect size treat. Whether it's to celebrate that special someone on Valentine's Day, cheer up a close friend who's feeling down or send a romantic gesture to your significant other, this is just the gift to make them all smile!
Fresh fruit arrangement includes plain strawberries; half-dipped strawberries and grape skewers on a lettuce and kale base.
Fruit is picked at the peak of freshness.
All of our dipped fruit is covered in delicious pink chocolatey confections.
Add Chocolates Here
Add Balloons Here
Add Plush Toy Here