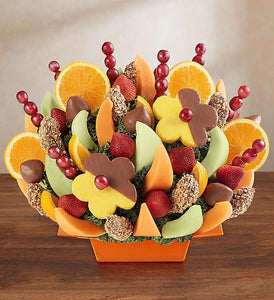 Be Fruitful
Regular price $89.99 Sale
There's something for everyone in our fresh and fun fruit arrangement! With three different kinds of dipped fruits and an assortment of juicy-ripe delights, this delicious gift is served up on a tray to turn every day into an instant party!
Fresh fruit arrangement includes dipped strawberries; dipped pineapple daisies; dipped apple wedges covered in toffee; honeydew melon & cantaloupe wedges; orange wedges; orange slices; strawberries; grape skewers.
Fruit is picked at the peak of freshness.
All of our dipped fruit is covered in delicious milk chocolaty confections.
Add Chocolates Here
Add Balloons Here
Add Plush Toy Here